Thank You Partner Agencies!
Together, we distributed more than 53 million meals to hungry families in our 30 county Colorado service area!
How did your partnership with FBR impact your community? Your customized Community Impact Report (CIR) shares ways your program makes a difference!
You'll get valuable information from our past fiscal year (July 1, 2017 – June 30, 2018) using data from:
You can easily view total pounds received, converted to meals and average ASF per pound contributed by your organization. You will be able to compare your total meals served vs. total meals served by all FBR partners within the same county.
---
Locate Pantries and Nutrition Assistance Easily On Our Website
Do Your Clients Know About Our "Get Help" tool at foodbankrockies.org?
Don't let them go hungry! Help them locate additional options that fit their schedule and location.
Would your program like to be on our Get Help Page? Let us know and fill out the referral form. Download it here.
Already on our page? Make sure your information up-to-date!
Visit the page to learn more and help clients located needed nutrition at https://www.foodbankrockies.org/get-help/
---
Double check your items when picking up fridge and frozen!
Often, there are orders for several agencies on one cart. They're tagged with your agency's name, so make sure you are taking only your items and not someone else's!
---
Is Your Agency Prepared for TEFAP Audits? These Common Findings Are Easy to Fix.
If your agency distributes TEFAP, it's critical to meet all state requirements. Discover these three areas where findings are commonly discovered at inspections and audits. Click to view.
---
Adventure Dental, Vision and Orthodontics can help low income families take care of their teeth!
Encourage clients to stop by their booth at some of our Mobile Pantry sites. They accept Medicaid and work with the uninsured. If your clients have children in need of these services this is a wonderful program! Learn more here.
---
Bugged by Pests?
Food Bank of the Rockies recommends Brian from Side by Side for pest control services. Brian has a solid track record of helping us pass countless inspections. Click here to visit website.
---

October 2018
FBR will be closed on October 31st for month-end inventory
**Closures may not apply to Nutrition Network Partners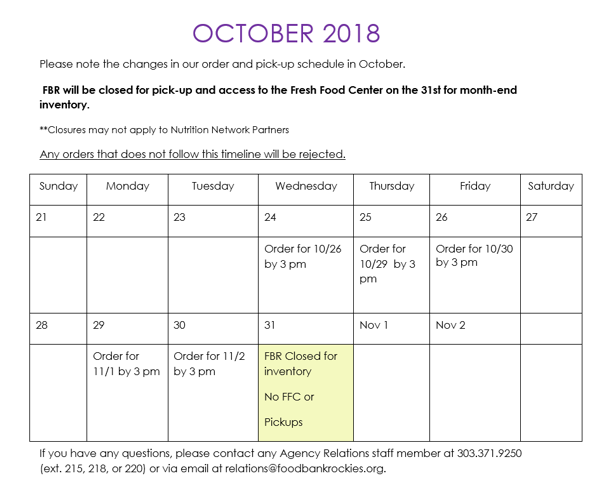 Any orders that do not follow this timeline will be rejected.
If you have any questions, please contact any Agency Relations staff member at 303.371.9250 (ext. 215, 218, or 220) or via email at relations@foodbankrockies.org.
This institution is an equal opportunity provider.
---