Have you completed your annual Food Safety & Civil Rights Certification?
Due: Friday, September 13th
Food Bank of the Rockies University offers these courses for FREE!
The Food Safety & Civil Rights Courses are available online and at no charge through FBR University. Completion of these courses is required annually for all active partners of Food Bank of the Rockies across all of our programs. After you have completed the self-paced course, you will take a short multiple-choice test. A score of 80% is required to pass and be compliant. Once you've passed, print your certificate for your records. There is no need to send us a copy; we have access to the names of all with passing scores.
Not only are these certifications USDA and Feeding America requirements, we wish to ensure the safety and health of those consuming food product distributed by Food Bank of the Rockies and our partners. We feel so strongly about the importance of these learnings, Food Bank of the Rockies staff also completes these annually.
For instructions and required courses, click here to begin. If you are a new user, please remember to sign up as an Agency Employee or Volunteer so we may capture your completion of these courses correctly.
If you have questions regarding the requirements or have difficulty accessing the online courses, please contact your Food Bank of the Rockies programs representative.
---
IRS Regulation…True or False?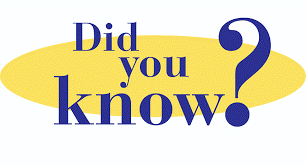 It's OK to sell items received from Food Bank of the Rockies to raise money for our program. True or False?
Answer - FALSE – Per IRS Code 170(e)(3): Donated items are only to be used by the donee (your organization) solely for the care of the ill, the needy, or infants. Donated items may not transferred in exchange for money, other property, or services.
Items distributed outside of these guideline are difficult to track and compromise food safety.
Thank you for abiding by this important regulation. If you have any questions about this policy, please contact your Food Bank of the Rockies programs representative.
---

Thursday, September 5th, 9am – 12pm and 4pm – 7pm
Food Bank of the Rockies will distribute food 10am – 12pm
Located at Sungate Kids: 6090 Greenwood Plaza Blvd, Greenwood Village
This event is reoccurring the first Thursday of each month, agency hours and availability may vary.
One Place provides resources like Project Safeguard: Application assistance for the Address Confidentiality Program, assistance with civil protection orders, weekly divorce/custody clinics, safety planning, and community referrals.
For more information including all services offered, click here to view the flyer.
Call 720-874-8618 or email OnePlace@da18.state.co.us with questions, Spanish interpreter will be on location.
---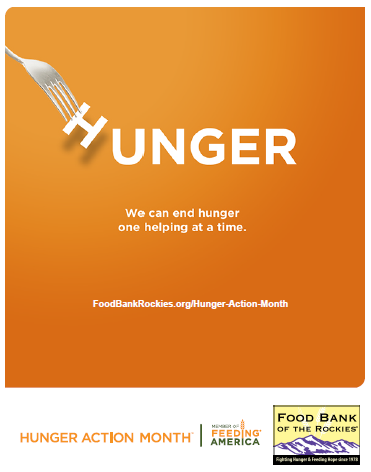 ---
Link2Feed
Link2Feed, preferred provider for Feeding America® Service Insights initiative, provides network food banks with a guiding framework for responsible and effective data collection and helps improve programs serving our community. Do you offer more services and programs than a food bank? Great! Link2Feed allows you to track all your programs FREE: meals, vouchers, clothing bank, etc.
If you offer TEFAP, you could go paperless with Link2Feed. To move to paperless, your site must use Link2Feed for 4-5 weeks and your TEFAP paper logs must match the data on Link2Feed. An audit will be completed by an our outreach representative and if approved, a signature pen will be provided.
Sign up for training and access to this valuable tool and resource, at no cost to you! If you are a partner outside the metro area and are interested in training, please reach out; we'd be happy to set up training in your area.
To sign up for Link2Feed training for your program, please click here.
Have questions about Link2Feed and what it can do for your program? Contact Dominica Gonzalez at 303-375-5844, or dgonzalez@foodbankrockies.org
---
Nutrition Network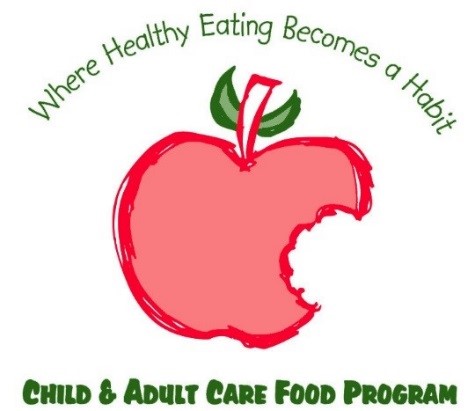 Do you run an afterschool program for children?
Apply for CACFP under Food Bank of the Rockies' sponsorship!
Food Bank of the Rockies offers an assortment of nutritious food for kids 18 and younger in qualified neighborhoods through the Child and Adult Care Food Program (CACFP).
Direct your interest and questions to Brandy Webb, bwebb@foodbankrockies.org, 303-375-5862 or apply online: Link to CACFP App
This institution is an equal opportunity provider.
---
Fresh Things are Cooking at our Kids' Sites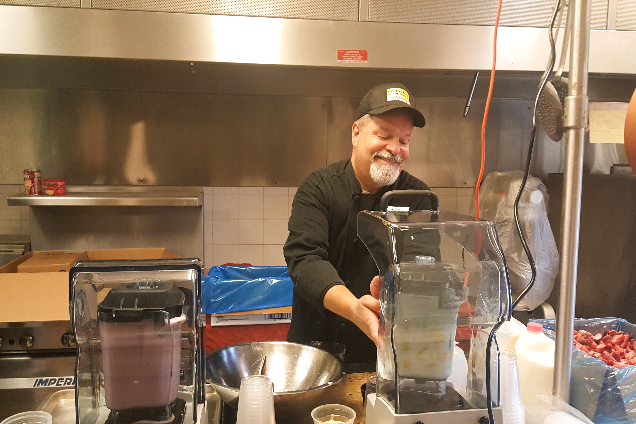 Smoothie Café: The results are in! The kids in Montrose and Olathe Boys and Girls Club really enjoyed making and drinking their own smoothies over the summer. The fresh fruits and veggies were consumed with big smiles. The club plans to continue offering smoothies during the school year.
Fresh meals at mobile pantries: Our fresh meals and snack stands at five mobile pantries were a hit this summer. One of the kids' favorites this month was the Chef Salad in a Tostada Bowl. Even the adults wanted to try it!
Kids made animal face toast, zucchini sushi rolls, fruit pizza and apple donuts. Donated fresh produce offered on at the mobile pantry provided ingredients for these finger food recipes. Kids learned about nutrition and took home recipes in English and Spanish. It was great to see excitement for healthy snacks families could make at home and the desire to learn more about nutrition, from both the kids and their parents. When a young girl told us she was happy to be "full of good food", we knew we were filling an important need.
To learn more about these fresh new initiatives, contact Cathy Schmelter, Nutrition Network Division Manager, cschmelter@foodbankrockies.org.
---
Make the Healthy Choice the Easy Choice with a Nutrition Nudge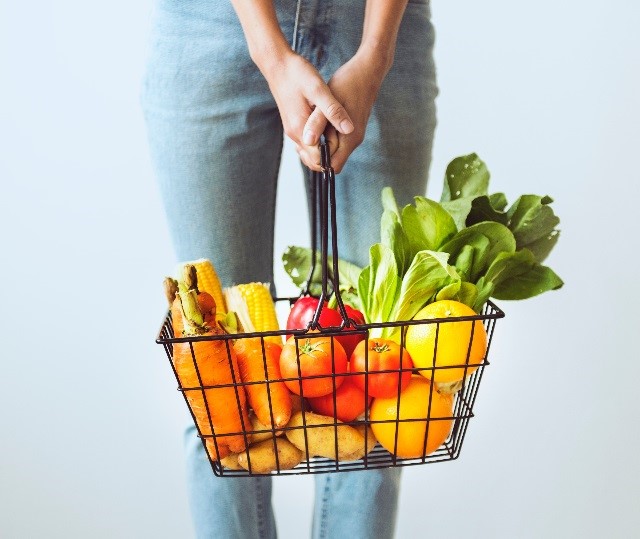 Nutrition nudges are small changes your food program can easily make to encourage health choices. How do you start? Here are some ideas:
Set up your pantry to look like a grocery store with the most nutritious food items on display,
Pair ingredients to make a nutritious soup together rather than displaying cans of carrots by themselves
Present produce creatively. Place apples on a tree-like structure to create a sense of abundance.
Want more ideas? Contact Nutrition Network Division Manager, Cathy Schmelter, cschmelter@foodbankrockies.org.
---