We're Excited for Changes Ahead!
Exciting changes are underway at Food Bank of the Rockies. We are creating a new, three-year strategic plan and will soon be rolling out a new mission statement, organizational values, and an updated brand (look and feel of the organization including a new logo)! Stay tuned for an announcement of a launch date for these changes. For now, we'd like to share two key themes that are central to Food Bank of the Rockies future which will be strongly represented in our strategic plan:
Community Relationships: We are prioritizing and growing relationships with our food pantry partners and other anti-hunger groups, donors, and volunteers. We are committed to listening and learning, recognizing the essential roles of each of these groups serve in Food Bank of the Rockies fulfilling its mission.
Organizational Best Practices: From inventory to finance to human resources, we are developing systems to create and sustain organizational best practices with the understanding that the strongest business practices will help us make the largest impact possible in our community.
Stay tuned for more specifics. We are incredibly excited to partner with you, our dedicated and generous volunteers, in creating a bright and bold future for Food Bank of the Rockies.
---
Brewer's Madness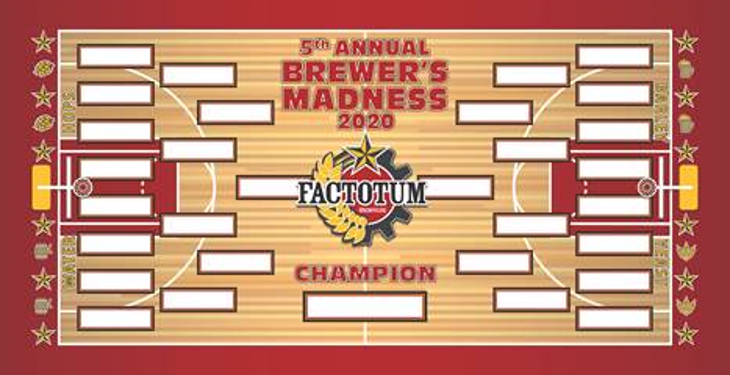 Join Food Bank of the Rockies at Factotum Brewhouse, Saturday, March 7 from 2:30pm-4:30pm as our beer (vanilla milk stout) goes head to head with Towards Justice's beer. The winner of Brewer's Madness gets $500!
What does the competition look like?
Each competition date will be a 2-hour window. During that window, anyone (21+ of course!) may order as many competition flights as they wish for $5. Each flight contains a 4 oz. pour of each of the beers and a voting chip. They will then cast their vote in the donation box for their favorite beer (ours, obviously). Each of those chips are the determinant for advancing to the next round. Vote early and vote often!
Stop by for a flight and hang out with friends and coworkers! Invite your friends on Facebook too!
---
Volunteers Needed
Our volunteer numbers drop significantly after the holidays and the need continues. We're making sure families facing hunger continue to have access to nourishing food during these winter months. Volunteers are greatly needed. Click here to sign up for a shift and invite others to join you!
We need two volunteers to help at the Memorial Day Run & March that will be held on Saturday May 23rd at Douglas County Fairgrounds on behalf of Colorado Veterans Project. Please sign up in Volunteer Hub.
We are usually closed on the last day of the month, however this month we will be open on March 31st.
---
Volunteer Spotlight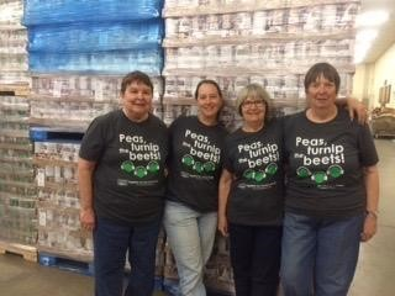 Meet JoAnne, Sandy, Dawn, Joann, Beverly, Joan, Beth, and Rhea! These eight amazing women come together twice a month to volunteer. They call their team FRIENDS, and they're one of our most dedicated groups.
They all have unique stories about why they decided to volunteer and how they all connected at Food Bank of the Rockies.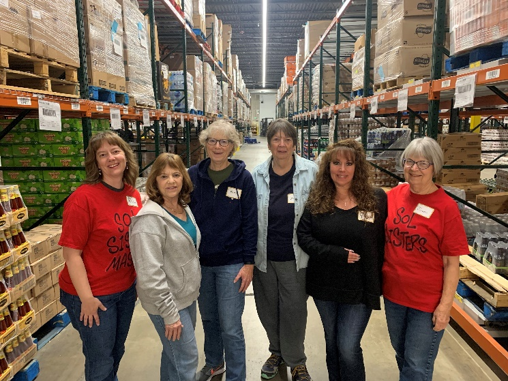 Many FRIENDS were invited to volunteer by other members of their group. They come for the fun and stayed because of the mission.
Beth came to pull orders and recognized a FRIEND who was also volunteering. She enjoys the camaraderie, and tells us, "Food is a basic need – not just needed so people can thrive, but so they can survive."
Sandy, who moved here from Kansas, was motivated by knowing life can change in an instant. "Someday, I may need help too," she shares.
They bring their infectious laughter, enthusiasm, and incredible work ethic to knock out our nonprofit partners' orders. Over the years, they've donated more than 1,460 volunteer hours to Food Bank of the Rockies - the equivalent of donating almost $37,128 to our organization. It's amazing what can happen when friends come together and decide to make a difference. We're so grateful for FRIENDS!
---
Children's Hospital Colorado's Healthy Roots Food Clinic
Children's Hospital Colorado recently held a grand opening of their Health Pavilion, including their Healthy Roots Food Clinic. Food Bank of the Rockies provides most of the food distributed at the food clinic for kids and their families struggling with food insecurity. The food clinic will soon be expanding to include a mobile food program. We are excited for the impact of this partnership to impact the health of children in our community and are grateful to Katie O'Conner, Wellness and Healthy Hospital Manager and Food Bank of the Rockies board member, in her involvement in this project.
---
Important Dates
Volunteer Appreciation Brunch: March 5th from 11:45 AM - 12:45 PM.
Volunteer Coffee: March 18th from 8:15 AM - 9 AM.
Volunteer Appreciation Cocktail Party: April 10th from 6 PM - 7 PM.