June Spotlight: Boys & Girls Clubs of Metro Denver
At the beginning of the COVID-19 outbreak, Food Bank of the Rockies was looking for ways to successfully mitigate the risk of transmission while also continuing to increase food distribution to our community partners. Enter Boys & Girls Clubs of Metro Denver; they were able to provide our warehouse with consistent help every morning for five straight weeks. Sherri Kroonenberg, Chief Program Officer of BGCMD, elaborated on how this partnership began:
"In the spirit of a true partnership, you care about one another; you reach out and provide support in difficult times.  When we heard about the need for consistent, reliable volunteers we immediately knew we wanted to help.  This partnership allows us to be a part of a collective solution, meeting critical needs across our community.  We heard from Food Bank of the Rockies that consistent staffing support would help to improve production and efficiency, increase safety, and make sure more families in Denver have the food they need!  This is where we stepped in." 
Food Bank of the Rockies has partnered with BGCMD for over 20 years to provide children with healthy meals as part of our Kids' Cafe program. Among the impacts of this pandemic was the closure of all Boys & Girls Club sites across the Denver area. BGCMD was able to keep employees on payroll while ensuring we could safely distribute food to our partners. With the partnership, we were also able to provide 350 food boxes per month to BGCMD so they could conduct targeted distribution to families unable to access emergency food.
We are so grateful for their continued support during this crisis, especially as food distribution has nearly doubled compared to the same time last year. Because of their staff's enthusiasm and unquestionable work ethic, Boys & Girls Clubs of Metro Denver has been instrumental in helping feed Coloradans in need.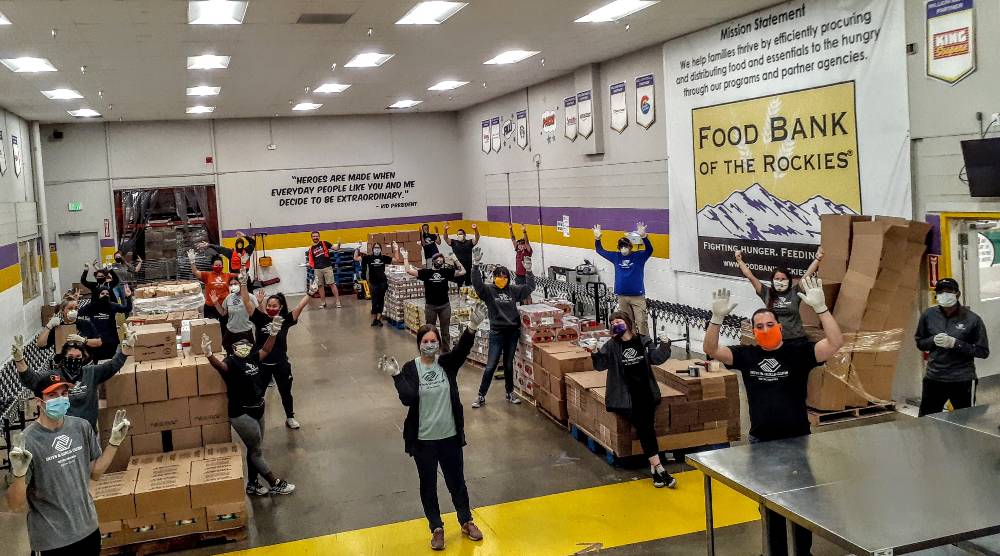 Thank you BGCMD! We look forward to continuing our partnership for years to come!
---
Food Bank of the Rockies Volunteers are 7Everday Heroes
Recognizing their extraordinary dedication to their community, longtime volunteers Kim and Phil Willett were the recipients of the 7Everday Hero Award! Watch their story here.
Congratulations Kim and Phil, we are grateful for your continued work in support of our mission!
---
Our Largest Distribution Day…Ever!
Thursday, May 7th goes down in history with a record-breaking 400,000 thousand pounds of food distributed across all our locations. That equals 350,000 meals in one day through our partner agencies and direct service programs. Thank you to our volunteers, staff, and partner agencies for helping us achieve this incredible feat! That's more than double what we would see in a typical day, pre-COVID-19. Watch the amazing work on our YouTube Channel.
---
How You Can Support our Efforts
Give Funds
The need is extraordinary and unlike anything we've experienced. Our services are critical to ensure sure families have food. If you can contribute, please give. Our expenses have increased dramatically, and we anticipate $16 million in expenditures over the next six months to ensure we have food and supplies to respond during this crisis. 
IRA Charitable Rollover
Individuals age 70 1/2 and older may make direct transfers of up to $100,000 per year (and up to $200,000 per year for married couples) from individual retirement accounts to Food Bank of the Rockies without having to count the transfers as income for federal tax purposes. Please call or email Jennifer Lackey, Chief Development Officer, at 303-375-5819 for additional information.
Do YOU or Someone You Care About Need Help?
Food is available. Please visit our website for distribution locations.
Fueling Food Banks with Circle K - April 10 - June 30
For every fuel purchase at a Circle K convenience store between April 10, 2020 and June 30, 2020, Circle K will donate one meal ($0.10) to the Feeding America® network of 200 food banks.
Upcoming Volunteers Opportunities
As we begin phase in more volunteers to help meet the growing demand we have immediate shift openings in our warehouse. Volunteers must be at least 14 years old (accompanied by an adult) or 16 years old to volunteer on their own. We're temporarily asking that groups reserve no more than 20 spots during bookings. Please visit our website for current opportunities.
Spread the Word
Share our impact on social media. Every share, like, comment, and retweet helps us reach more people with important information. You can find Food Bank of the Rockies on the following sites: Facebook, Instagram, LinkedIn, and Twitter. Please help us spread the word about the vital work we are doing.