Are Your Clients Receiving Fresh Fruits and Veggies?
At Food Bank of the Rockies, our mission is to ensure hungry people receive nutritious, satisfying meals. We have abundant produce, bread, and dairy items to make this possible! Help us help clients by providing healthy, fresh produce; delicious bread; and nutrient-dense dairy.
According to current USDA guidelines, an average adults needs 3 cups of vegetables, 2 cups of fruit, and 3-4 ounces of grains daily. You can help your clients reach these nutrition guidelines by distributing more healthy produce and grains! FBR has several programs to help you do that:
1) The Fresh Food Center has bread, produce, and dairy available for FREE every day. Come 20 minutes before your order pickup time, or Monday-Thursday from 12-3:30pm and Friday from 9am-3pm.
2) The PUSH program involves agencies picking up full pallets of produce at FBR warehouse. If you serve a large client base, and can distribute full pallets of produce (~2000 lbs), this program is for you! Please note that smaller agencies may also split pallets between them as long as all are FBR partner agencies. Contact Agency Relations at 303-375-5850 or relations@foodbankrockies.org
We have also been lucky enough to be receiving large donations of bread items! Feel free to give your clients multiple bread items to be sure they can achieve proper nutrition levels!
For more information about nutrition guidelines, what portion sizes look like, and recipe and cooking ideas, visit ChooseMyPlate.gov.
---
Educate Your Clients with this FREE App!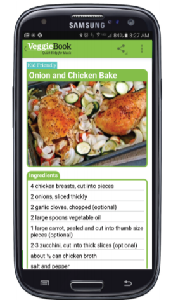 Veggiebook is designed for clients using food assistance and offers them easy-to-use, affordable recipes for the most common produce items typically found at food pantries. Using Veggiebook encourages clients to select fresh, healthy produce by helping them become familiar with ways to prepare it. If you're interested in hosting this training model at your pantry please email mesparza@foodbankrockies.org to be part of this pilot program
---
Do you run an afterschool program for children?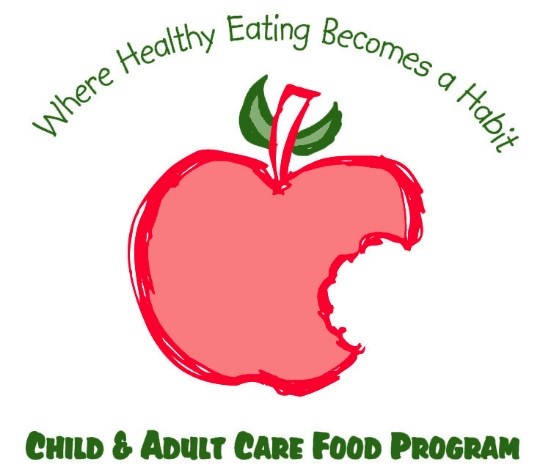 Apply for CACFP under FBR's sponsorship!
Food Bank of the Rockies offers an assortment of nutritious food for qualified neighborhoods through the Child and Adult Care Food Program (CACFP).
Returning sites received an application via email in July. If interested or have questions, please contact Brandy Webb at 303-375-5862 or apply online 2018-2019 CACFP Application.
---
Accuracy is Critical for TEFAP and CSFP Partners
When you receive your commodities, please review the invoice very carefully. Discrepancies should be reported within 24 hours of receipt. You can fax (720-473-6328) or email Daniel Martinez at dmartinez@foodbankrockies.org. We want to make sure you're receiving everything you're expecting. This also ensures your inventory and ours is correct and that makes us all happy.
---
Rosie Esparza Heads to Denver Public Schools & Welcome Charita Goodlow!
We're sad to say goodbye to our friend, and co-worker, Rosie Esparza. Rosie was with Food Bank of the Rockies for a little over 10 years and recently accepted a position with Denver Public Schools. She'll be able to work where her kids attend school. We wish her well in her new position.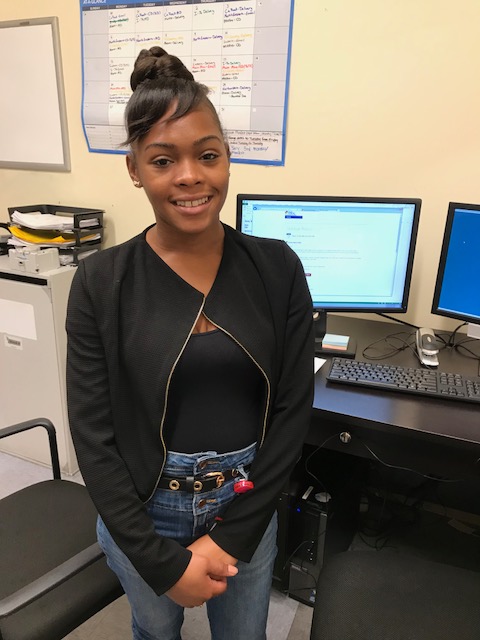 And join us for a warm welcome to Charita Goodlow, FBR's newest Customer Service Representative. Charita is excited to be with Food Bank of the Rockies and you'll find her greeting our partners at the agency order window. She previously worked as a customer service representative for Comcast and holds a degree in Culinary Arts from Esscofier in Boulder. She enjoys hiking, traveling and loves her grandma and her 3 year old daughter. In her spare time, Charita loves to bake! We're delighted she's joined our programs department.
---
August 2018
Please note the changes in our order and pick-up schedule in August.
FBR will be closed on August 31st for month-end inventory
Please note: FBR will be closed September 3rd for Labor Day.
**Closures may not apply to Nutrition Network Partners
Any orders that does not follow this timeline will be rejected.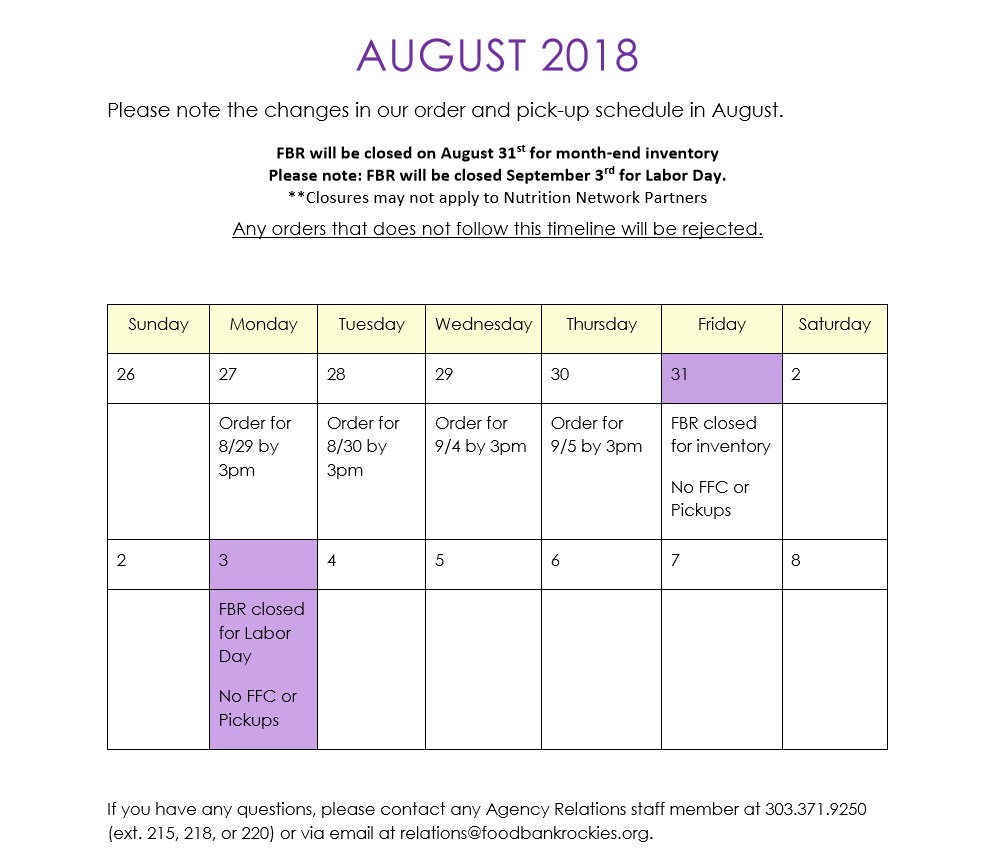 If you have any questions, please contact any Agency Relations staff member at 303.371.9250 (ext. 215, 218, or 220) or via email at relations@foodbankrockies.org.
---
This institution is an equal opportunity provider.