We're Thankful for Our Partners – Happy Thanksgiving
Congratulations to Twin Parishes, FBR's 2018 Peak Partner!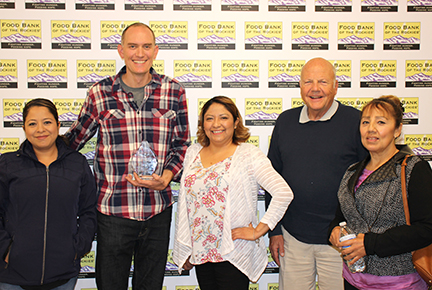 Twin Parishes makes a big difference in their community! Open twice a week, six hours a day, with the help of 20 volunteers, the organization serves more than 500 households and 20,000 individuals each year.
FBR recognizes Twin Parishes' contribution to our Link2Feed launch, helping us get closer to going paperless and allowing us to better count the people served by all our partners and programs.
They run an exemplary, efficient program including CSFP and TEFAP distribution. They turn their paperwork in promptly and treat clients with respect.
We are proud to present this award to Twin Parishes, a truly outstanding FBR partner!
---
TEFAP Abundance
The Emergency Food Assistance Program (TEFAP) has received a combination of fresh, refrigerated, frozen, and shelf-stable offerings and we're expecting more, including:
Dairy, Grains, and Tree Nuts
Fresh Fruits and Vegetables
Pork, Poultry, and Fish
Click here for surplus application.
---
Are You Offering Special Holiday Assistance?
Please let us know if we can direct clients to your agency for additional holiday help. This time of year can be especially difficult for struggling families. If you're offering holiday boxes, meals, turkeys, toys etc. please let us know and we'll help spread the word and holiday cheer.
---
We're on Facebook in Denver and the Western Slope
Follow all the happenings at your favorite branch. Click to like our Denver and Western Slope pages. We appreciate your likes, comments, tags and shares too!
---
Common USDA Inspection and Audit Findings Your Program Can Avoid
If your agency distributes government commodity product, please help us ensure all state requirements are being met. Here are some examples of commonly discovered at inspections and audits.
Click here to see the New CO TEFAP state plan.
---
Meet Our Intern, Andrea
We delighted to introduce Andrea Burba, our intern, helping in Nutrition Network and other departments. Andrea, a senior at Vista Peak, landed here through the Pickens Tech Executive Intern Program. She plans on attending Colorado State University to study Business Administration and pre-law. Andrea enjoys breaking down data and learning more about the transportation logistics of our organization. We're privileged to have Andrea until the beginning of December and appreciate her contributions to a number of programs and departments.
---
Sometimes Sharing Isn't OK
Help us keep clients safe. Product received from Food Bank of the Rockies can only be shared with clients, not with other organizations. If you have product you're unable to distribute, contact us to receive instruction or donate it back. This policy is important for food safety and ensures an accurate register of where food is distributed for recall notifications and reporting.
---