Agency Support Fee Increases Two Cents per Pound on July 1, 2019
We value your partnership and appreciate all you do to solve hunger in our community. We recognize that it takes a collaborative effort to feed hungry families. Your support contributions are important to our shared success. Food Bank of the Rockies takes raising support rates seriously and we only do so when necessary to continue providing the valuable services, products and support you've come to expect.
Effective July 1, the Agency Support Fee (ASF) will increase to $.14/lb. We anticipate that with additional sources of produce, dairy, and baked goods, our agencies' average contribution, currently only $.02/lb., will remain below $.04/lb. Our current cost of procuring and distributing food is $.30/lb., fifteen times more than the current agency average cost.
The new agency support fee is still 26% less than 12 years ago, thanks to fundraising to subsidize food and essentials for our pantry partners. Even with increases in food, energy and fuel costs, and the addition of purchased produce, Food Bank of the Rockies continues to provide high value for a very low, shared agency contribution.
The ASF contributed by our partners is vital to Food Bank of the Rockies' ability to provide the variety and quality of products to help those in need across 30 counties in Colorado
We appreciate all you do to provide nourishment and hope to our neighbors facing hunger. We look forward to continuing our mission and supporting each other's efforts. Together, we can solve hunger.
---

We have several job openings including a couple in our Palisade location. Visit our website for complete job descriptions and please share with clients who may be looking for employment!
---
Is Your Program Gaining Insight from Link2Feed?
Link2Feed, preferred provider for Feeding America® Service Insights initiative, provides network food banks and their partners with a guiding framework for responsible and effective data collection and helps improve programs serving our community.
Does your program offer more services and programs in addition to food? Link2Feed allows you to track all your programs - meals, vouchers, clothing bank, etc. And its FREE for Food Bank of the Rockies' partner agencies!
If you offer TEFAP, you could go paperless with Link2Feed. To move to paperless, use Link2Feed for at least 4-5 weeks. Ensure your programs TEFAP paper logs match what is on Link2Feed. Our Outreach Representatives will perform an audit and if your program is approved, we'll provide you with a signature pen.
Sign up for a training and access to this valuable tool and resource, at no cost to you! If you are a partner outside the metro area and are interested in training, please reach out. We'd be happy to set up training in your area.
Sign up here.
Brittany Feltenberger can answer your Link2Feed questions, 303-375-5844, bfeltenberger@foodbankrockies.org.
---

DON'T LET YOUR TOES BE EXPOSED!
We know that the forecast shows warmer weather ahead and you've got your sandals dusted off and ready to go! For your safety, leave the sandals at home or in the car when visiting Food Bank of the Rockies and wear close-toed shoes in our warehouse. That means no sandals or flip flops – even in the hottest weather. We recommend keeping a pair of closed-toed shoes in your car so you're prepared to pick up your order safely.
---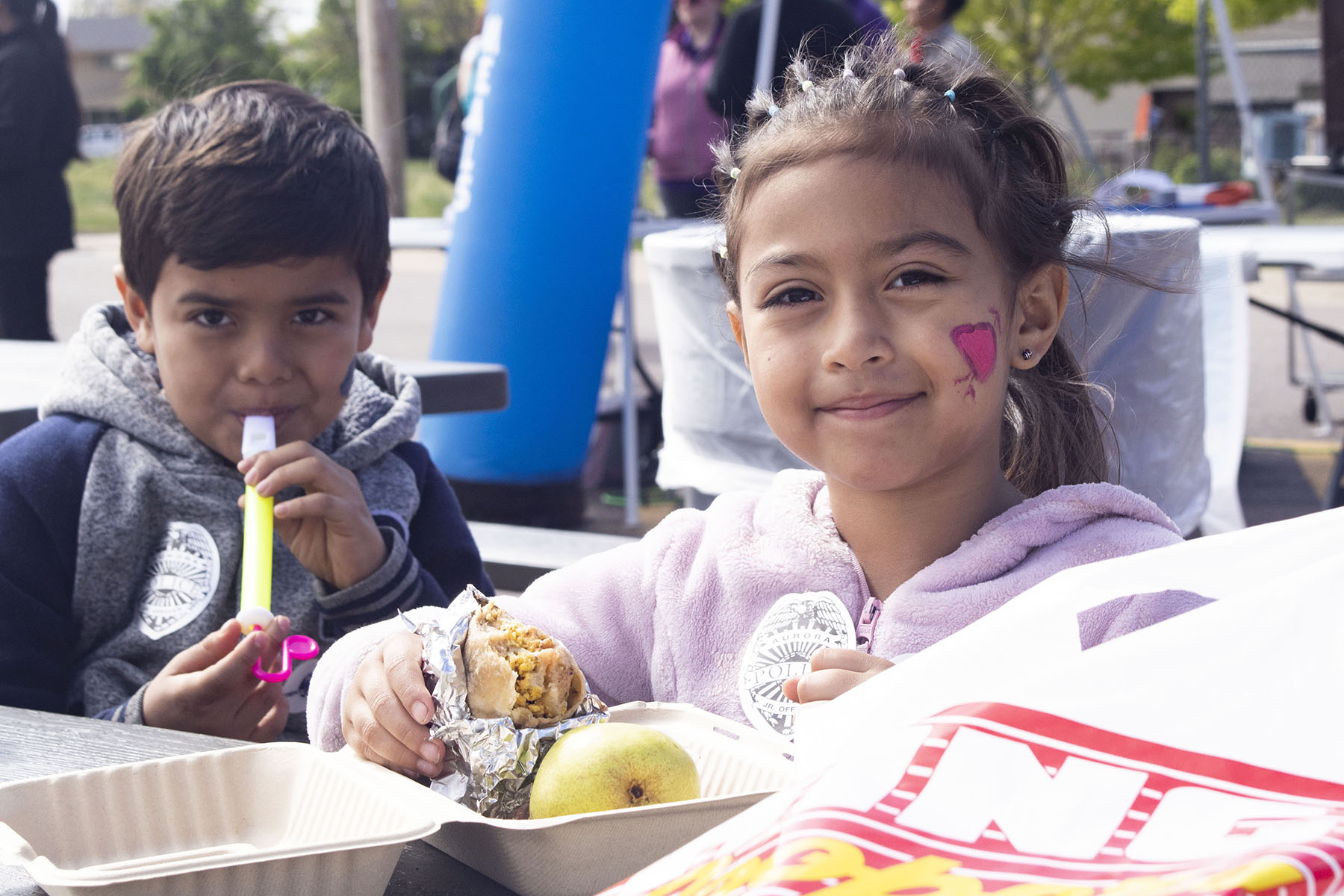 Don't Let Kids in Your Neighborhood Go Hungry!
When free and reduced price school meals go away in the summer, many low-income families struggle to pay for the extra meals their children needs. Help kids near you find summer food sites by sharing this important information.
Text FOOD to 877-877 to find sites near you – then spread the word in your neighborhood. You can also search for sites on our website. Help kids can find meals this summer!
---
Store CSFP Products Safely
CSFP Partners, please protect all USDA Foods from spoilage, theft, damage, or loss.
Dry Storage Recommendations: 50 – 70 degrees
Refrigerated Storage Recommendations: 32 – 40 degrees
All cheese must be stored in a refrigerator
Do you have damaged product? Take pictures of food boxes and returned to Food Bank of the Rockies' Nome Warehouse for appropriate disposal in accordance with Federal guidelines. If the product cannot be returned due to storage or safety concerns, pictures and documentation should be forwarded to Food Bank of the Rockies.
The State of Colorado recently shared Food Bank of the Rockies' new caseload of 6,740 senior boxes. If you know of a senior over the age of 60 in need of food assistance please refer them to our local CSFP distribution sites by clicking here or sharing this flyer.

---
New TEFAP Income Guidelines Announced
The TEFAP Eligibility applications have been updated with the new 2019 income guidelines for both the TEFAP & Surplus application.
All updated versions can be found on CDHS Portal by clicking: here.
Effective immediately, start using the new application forms. All outdated forms must be thrown out or recycled.
Are you using Link2Feed? Income criteria has been updated and will reflect the new TEFAP income guidelines.
A HUGE SHOUT OUT to the following TEFAP Partner Agencies for going paperless for TEFAP on Link2Feed:
Adams County Food Bank
Twin Parishes
To find out how you can go paperless with TEFAP, contact Brittany Feltenberger, 303-375-5844, bfeltenberger@foodbankrockies.org
---