Important Partner Updates - April 20, 2020
Now You Can Text Your Questions to Our Team!
We're working to answer your important questions as quickly as possible. Text your questions to the appropriate number below and connect with a staff member who will help you. We'll also be using text messages to communicate with partners regarding closures, events, and our newsletter.

Text Us:
Western Slope: 970-464-1138
If we have your cell phone number in our system, we will soon be sending out a text message for you to opt-in. To help us ensure we have the right number connected with your program, please fill out this quick survey to help us identify and track numbers when the texting service is launched. Click the link below to access the survey: https://app.smartsheet.com/b/form/28ea1a8df2d4412199b02d655df3ed8f

Can Your CACFP Site Distribute Grab-n-Go Meals to Kids?
Food Bank of the Rockies has been granted waivers from the state to offer Child and Adult Care Food Program (CACFP) meals to our current sites. If you are interested in distributing packaged or grab-n-go meals from Revolution Foods, please reach out to Brandy immediately.

Are your shelf-stable meals for kids about to expire?
We have places to distribute them. Please reach out to Brandy as soon as possible, thank you!

Do you host a summer food service program site (SFSP) or other children's feeding site?
We're looking for partners to join us in distributing meals to kids. Revolution Foods, City of Denver's Early Childhood Council, Faith Bridge in Green Valley Ranch, Clayton Early Learning and Mile High Learning have joined us to provide grab-n-go meals. We'd love to see your program on this list!
If your site is interested in joining us, we may be able to provide these meals at no cost through reimbursement from our summer emergency program. Check with Brandy to see if your program is eligible to participate.
If you know of any additional sites that would be interested in this opportunity, please refer them to Brandy. We will review each interested site to determine if your program is a good fit.

Does Your Program Have Extra Totes of Hope®?
If you have leftover Totes product on hand, please distribute them to children in your neighborhood.
If you are a current Totes of Hope site and would like to restart your program, please reach out to Guillermo.
If you know of a site that does not normally participate in Totes of Hope, weekend food for children, but would like to participate during this time, please reach out to either Cathy or Guillermo.
Each Totes request will be reviewed, and if approved, will be invited to participate in the program as we have staff, volunteer, and financial capability.


Please continue to wear your mask while visiting the warehouse and keep a safe social distance of 6 feet or more!
To learn more about wearing masks and find links to make one, check out the link to our last newsletter at the bottom of this email.
Thank you for helping everyone stay safe!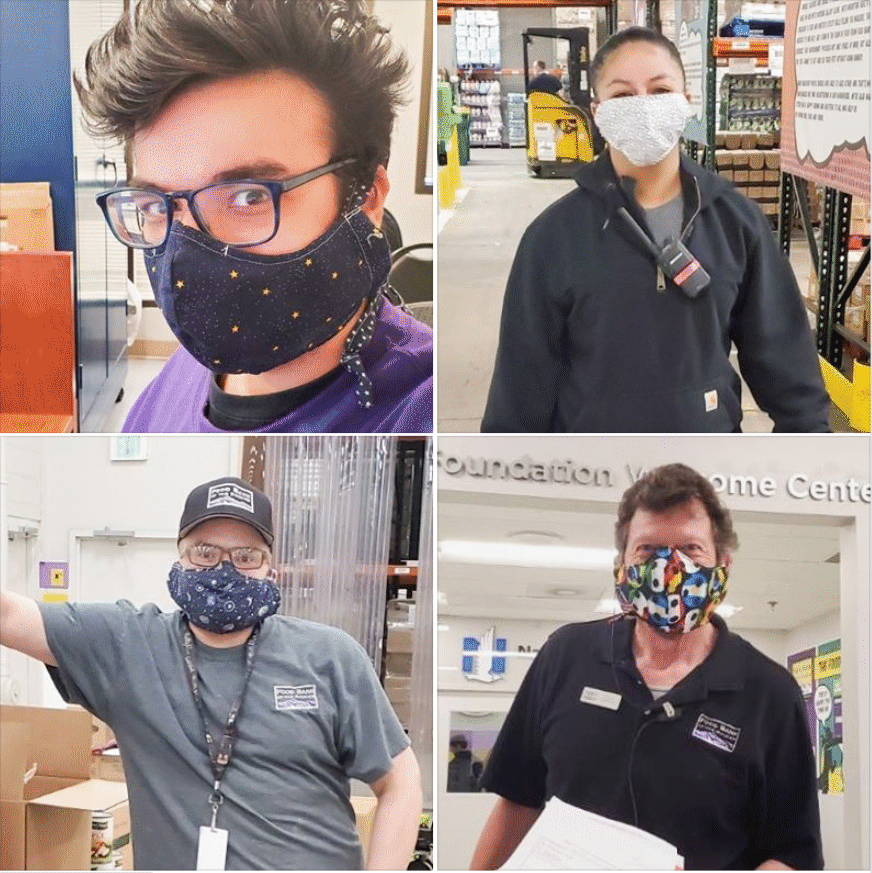 Our Emergency Support Team is Here to Help
Please continue to refer clients you're unable to serve, any potential volunteers, and those wanting to help, to our Emergency Support Team partners at https://fbr.convio.net/emergency-assistance/.

Past Newsletters - Please copy and past the link in your browser to view
April 14 -
http://fbr.convio.net/site/MessageViewer?em_id=22850.0&pgwrap=n
April 12 -
http://fbr.convio.net/site/MessageViewer?em_id=22829.0&pgwrap=n
March 27 -
http://fbr.convio.net/site/MessageViewer?em_id=22771.0&pgwrap=n
March 23 -
http://fbr.convio.net/site/MessageViewer?em_id=22731.0&pgwrap=n