Dear Friend,
Thank you for making a difference for neighbors facing hunger during this crisis. Over the past few weeks our community, our partners, and our organization have persevered through unprecedented challenges. Food Bank of the Rockies has restructured the way we operate to ensure that we and our food pantry partners on the frontlines are able to meet the increasing demand, while preparing for what we anticipate will be ongoing need in coming months.
We recently held a Zoom town hall session with some of our volunteers and discussed Food Bank of the Rockies' COVID-19 response, community partnerships, fundraising efforts and volunteer health and safety. Please click here to watch the recorded, one hour, Zoom town hall session. Here are just a few examples of the impact our community partners, donors and volunteers have made possible during this crisis:
Despite food shortages and food cost increases, we have leveraged new relationships and food sources to increase food procurement and distribution by more than 40%.

Through drive-through distributions and partner food pantries, we have served more than 100,000 people in the past month alone. Last month, at Empower Field at Mile High, more than 7,000 individuals received food at the largest mobile pantry we have ever operated. Check out Fox 31's coverage here.

More than 14,000 children no longer receiving school meals are receiving grocery boxes for their families, meals at childcare centers for essential workers, or grab-n-go meals across Colorado and Wyoming.

More than 7% of the state's workforce have now filed for unemployment - more people last week than in all of 2019 . Because you continue to support our efforts, food will be there when paychecks are gone.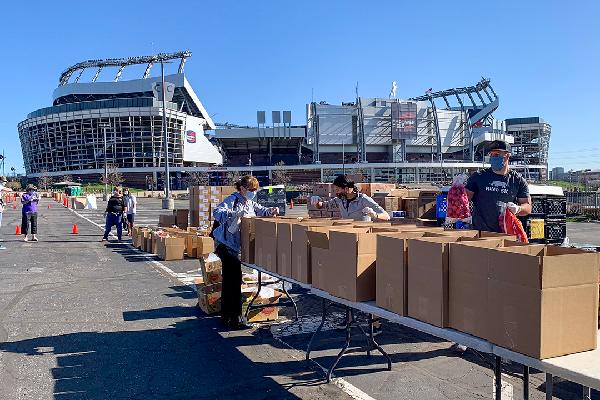 We are only able to continue our important work because of you. At times like this, people rise together, and we thank you for your amazing outpouring of support. We know things will get better. We just don't know when. And until that time comes, Food Bank of the Rockies will be here – nourishing people facing hunger. For as long as it takes. We appreciate all that you are doing for our community.
In partnership,
Erin Pulling
President & CEO
---
Governor Polis' Safer at Home Policy
Food Bank of the Rockies is carefully following Governor Jared Polis' Safer at Home Policy. Thanks to a collaboration with Boys & Girls Clubs of Metro Denver, which is sharing their staff members, we have been able to maintain a safe number of volunteers in our facility each day.
This reduction in volume helps with social distancing, and with less turnover at our facility, the risk of potential exposure is decreased. This partnership will extend until May 15.
Beginning May 18 we will begin offering morning shifts. We do not have plans to increase our volunteer numbers of 35 people per shift until late summer and will continue to monitor the situation.
Thank you for your patience and understanding as we work to keep our clients, staff and volunteers safe. We will add volunteer opportunities at our Mobile Pantry locations as they arise. Please be sure to check our Volunteer Calendar regularly for newly added opportunities.
---
How You Can Support our Efforts
Give Funds
The need is extraordinary and unlike anything we've experienced. Our services are critical to make sure families have food. If you can contribute, please give. Our expenses have increased dramatically, and we anticipate $16 million in expenditures over the next 6 months to ensure we have food and supplies to respond during this crisis. Click here to make an impact.
IRA Charitable Rollover
Individuals age 70 ½ and older may make direct transfers of up to $100,000 per year (and up to $200,000 per year for married couples) from individual retirement accounts to Food Bank of the Rockies without having to count the transfers as income for federal tax purposes. Please contact Jennifer Lackey at 303-375-5819 or jlackey@foodbankrockies.org for additional information.
Do YOU or Someone You Care About Need Help?
Food is available. Please visit our website for distribution locations.
Other Ways to Support Food Bank of the Rockies
Fueling Food Banks with Circle K - April 10 – June 30
For every fuel purchase at a Circle K convenience store between April 10, 2020 – June 30, 2020, Circle K will donate one meal ($0.10) to the Feeding America® network of 200 food banks.

9News, Bonneville Denver Radio, King Soopers Virtual Food Drive happening now through May 10
Join 9NEWS, Sports Radio 104.3 The Fan, 98.5 KYGO, KOSI 101.1 - sponsored by King Soopers. All these caring organizations and their viewers, listeners and customers are helping Food Bank of the Rockies through virtual food drives to benefit Food Bank of the Rockies. Combined with a generous donation from Tim Gill and Scott Miller through the Gill Foundation, we're expecting this drive to exceed 1 million dollars and help provide enough food for more than 4 million meals! This is a time of unprecedented need and we can't thank our community enough for this outpouring of support! Wherever hunger exists, Food Bank of the Rockies will be there to help.
Walmart & Sam's Club Fight Hunger Spark Change 2020 - April 13 – May 11
Walmart and Sam's Club are joining forces with their customers and suppliers to raise meals for Feeding America and its nationwide network of member food banks. Customers can make contributions online or by purchasing specific items. For each participating item purchased in-store or online, Walmart will make the donation equivalent to one meal secured by Feeding America® on behalf of local member food banks from each supplier.
Spread the Word
Share our impact on social media. Every share, like, comment, and retweet helps us reach more people with important information. You can find Food Bank of the Rockies on the following sites: Facebook, Instagram, LinkedIn, and Twitter. Please help us spread the word about the vital work we are doing.