Important Partner Updates – June 11, 2020
We're grateful you're partnering with us, helping our neighbors struggling with food insecurity during this difficult time. We are here for you, and together, we are nourishing our communities with food and hope. Solving food insecurity is a daunting task. Every step we take to find solutions and offer a brighter tomorrow brings us closer to a more compassionate community. We appreciate you taking these steps with us. Thank you.
Agency Pulse Survey
Pulse can be defined as the central point of energy and organization in an area or activity. That's YOU, our Partners – the pulse of your communities, helping those in need during this difficult time.
How are you navigating this new normal? COVID-19 changed our day-to-day lives and will continue to impact us all. Help us understand the challenges and opportunities you face. We want to hear from you! Please complete this short survey and provide insight so we can serve you better.
Thank you in advance for your time and continued partnership.
Record Need
People are struggling in record numbers, and the need for food assistance will likely remain high for months to come. According to Feeding America, with unemployment at 13.3%, 17.1 million more people in the United States could experience food insecurity. Food donations remain unpredictable. Our food system and how we help our neighbors facing hunger will continue to evolve. Read how food banks are navigating this crisis and learn some of the challenges we're facing in this article from Food Bank News featuring our COO, Steve Kullberg.

Food Assistance Locator – Is Your Program on the List? Is Your Information Updated?
We recently reactivated our Get Help food assistance search page. Your program will be included when you give us your OK to list your food assistance services. We want to provide information on as many resources as possible and include all active programs. Please complete this form and return it to Avalon, aguarino@foodbankrockies.org.
If your program is listed, please verify the listing is still accurate. Share any changes to Avalon using the form linked above. Our neighbors depend on Food Bank of the Rockies as a resource to find food assistance. Thank you for helping us keep this important information updated.
Kids' Summer Meals
We're accepting applications for our summer food service program. This is a government-sponsored program and there is no cost for the meals. There are many distribution options available including fresh grab-n-go and shelf-stable meals, the ability to distribute multiple meals at once, and parent pick up. These options have been extended through August 31st. Check with Brandy to see if your program is eligible to participate. Please turn in your application today, thank you!
Text to Locate Meal Sites for Children
Share with families you serve that it's easy to locate meals for children 18 and under. Simply text "FOOD" or "COMIDA" to 877-877 to receive a follow-up text with a list of nearby locations.
Help Children with Weekly Food Bags. Start or Renew Your Totes of Hope Program.
If you would like to provide weekly food for children and their families, restart your Totes of Hope program, or learn how to become a site, please reach out to Guillermo for more information or Meghan, if you're near Palisade.
Sealing Meals so Kids Have Fresh Food
We are excited to announce our food sealer has arrived at our main branch! This assembly-line like machine allows us to offer weekly fresh produce in our Totes of Hope bags as part of a pilot program. Our first week, 755 kids will take home fresh cantaloupe and cucumbers. We're also making fresh summer meals for kids to enjoy at our mobile pantries. This week, the kids received a breakfast strawberry yogurt parfait with granola. Yum!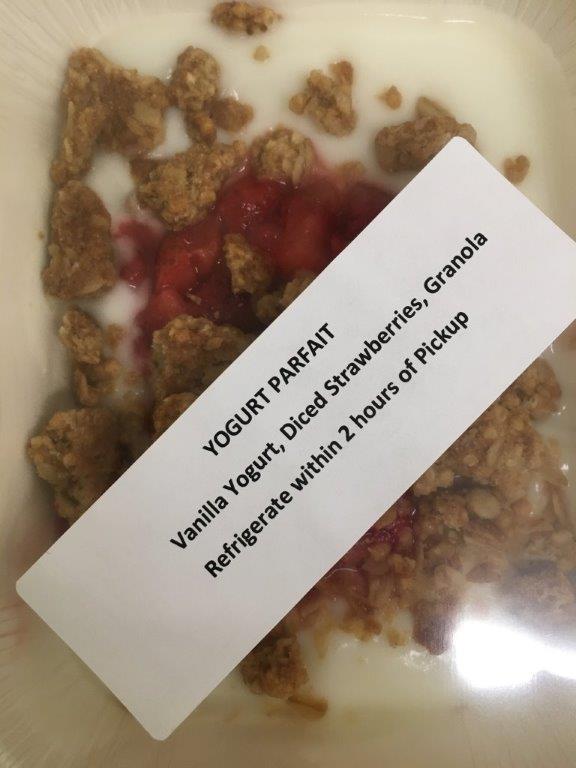 Advocate for Higher Monthly Minimum SNAP Benefits
Food Research & Action Center (FRAC), Feeding America, Center for American Progress (CAP), and other national, state, and community-based organizations across the country are signing on to a letter to encourage Congress to improve SNAP benefits. The current minimum monthly SNAP benefits are $16 per month. This proposal encourages increasing the monthly minimum benefit to $30. SNAP is critical to counteract the current food insecurity crisis. Please click on this link, sign-on, and share this information with others who want to advocate by June 12.
Online Groceries are Now Available with Electronic Benefits Transfer (EBT) in Colorado!
Low-income Coloradans no longer have to choose between the safety of staying home and the necessity of purchasing food. SNAP users can now purchase food from Walmart and Amazon online using their EBT card. Look for the EBT icon on participating retailers' websites. Clients can enter their EBT information by selecting this icon.
Have You Read Our COVID-19 Guidebook?
Food Bank of the Rockies is pleased to release a COVID-19 guidebook for our partner agencies. The guidebook is a compilation of resources to help you address challenges in operating a food distribution program during COVID-19 including general information, example checklists, and protocols – items that may be helpful as you navigate how to implement temperature checks, how to communicate with volunteers when there is a positive case, etc. Also included are sample communication templates which can be customized to meet your program's needs and a resource section complete with links to important websites.
All Food Bank of the Rockies partners will have access to this guidebook. This guidebook does not represent rules and regulations from Food Bank of the Rockies, just resources that we are hoping you will find helpful. We ask that you do not share the guidebook and use it only for your program. By accessing the guidebook, you are agreeing to not further share without Food Bank of the Rockies' consent. The guidebook should only be used in conjunction with filling out the legal disclaimer and agreeing to the terms and conditions. To get started, please click here to sign our legal disclaimer and receive an email with your link to the guidebook.
If you have questions, please reach out to our agency relations team, relations@foodbankrockies.org.
We're Hiring!
Visit our careers page to see current openings.