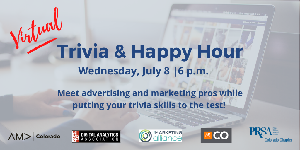 Virtual Happy Hour Fundraiser
Ad Club Colorado, AMA Colorado, Digital Analytics Association, PRSA Colorado and The Marketing Alliance are hosting a virtual food drive to help Food Bank of the Rockies feed hungry families. Will you help us and contribute to this important cause?
Did you know the food bank can provide four meals or five pounds of food for just a dollar? Even a small donation can make a difference when you give through this virtual food drive. Suggested donation is $5-$10. Click the "Donate Now" button to make your gift.
Thanks in advance for your help!
View More

Liz Viscardi
$0

Virtual Food Drive Honor Roll
Top Virtual Food Drive Donors